It is sometimes said to never meet your heroes for fear that they will disappoint. However, this was certainly not the case for those that had the opportunity to meet and know Dr. Bernadine Strik, Professor Emeritus and Berry Specialist at Oregon State University.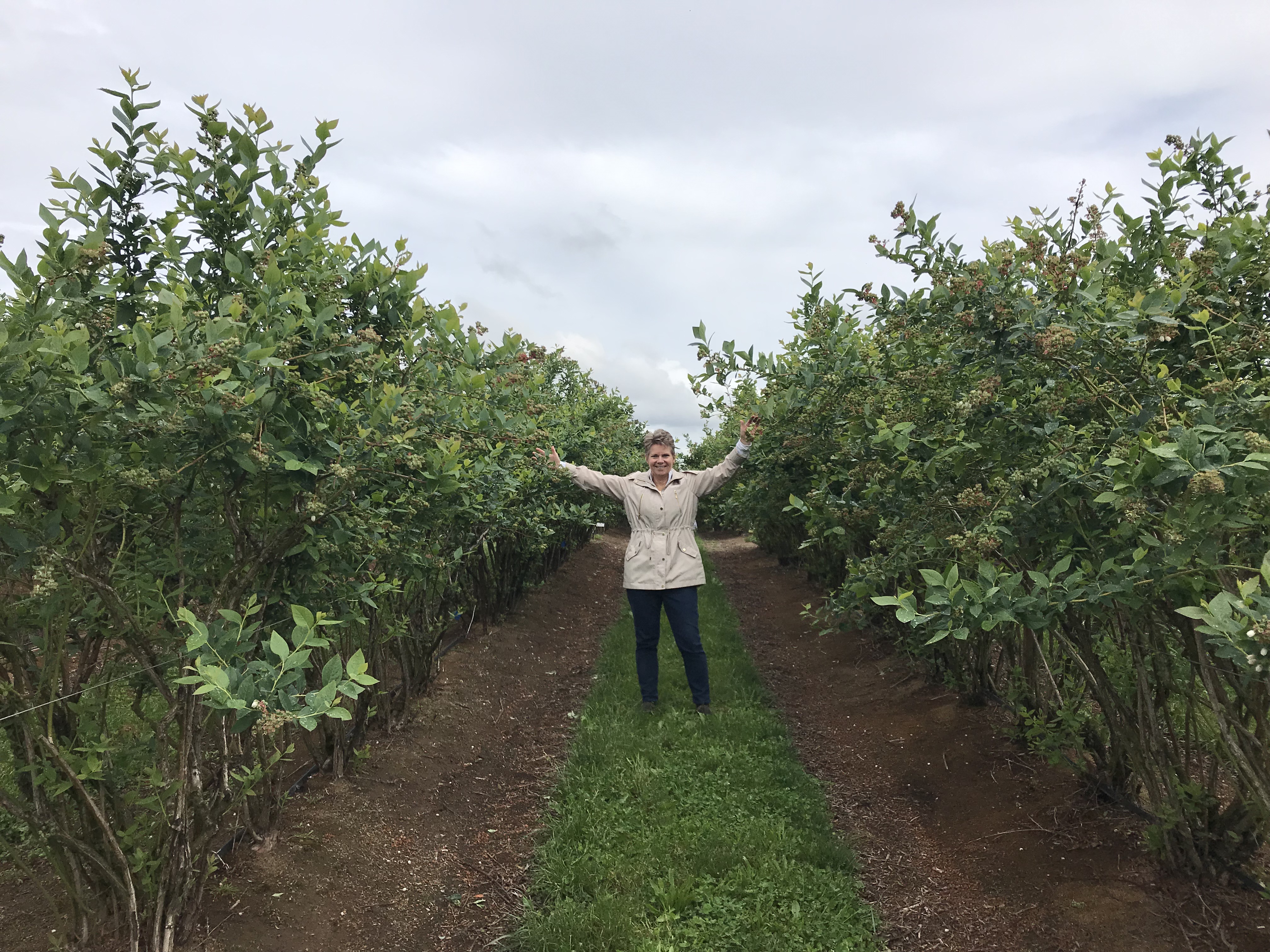 Sadly, after a 34 year-long career and retiring in 2021, Dr. Strik succumbed to cancer and died peacefully in April 2023. She was only 60 years of age. Despite leaving the world too soon, her life and career left a positive impact on so many.
Dr. Strik, or simply "Bernadine" to many, was a legendary scientist that conducted applied horticultural research that had a tremendous impact on the berry industry, including Vaccinium species. Her horticultural research on highbush blueberry is perhaps best known among the VacCAP team, as it transformed our knowledge of blueberry plant physiology and production techniques such as pruning, plant spacing, mulching, trellising, nutrient management, cultivar adaptation, and more. Her research on organic blueberry production was also revolutionary and guided the growth of the organic blueberry industry.  
She also worked closely Dr. Chad Finn, berry breeder with the USDA and another member of the VacCAP team gone too soon. The product of their collaborations was the release of new cultivars paired with horticultural advice on how to optimally grow them. This partnership also created a model of how breeders and horticulturists can work together to accelerate and improve the process of selecting and releasing new berry cultivars to the industry.
The work led by Dr. Strik was also recognized nationally and internationally by the berry industry and fellow academics. Aside of numerous industry awards bestowed upon her pre- and post-retirement, she was awarded the prestigious International Society for Horticultural Science Fellow Award in recognition for her outstanding contributions worldwide to berry crop production and science.   
Among all of these accomplishments, Dr. Strik was also a gracious human being well loved by her colleagues, the growers she worked with, and family. She mentored numerous students, staff, and faculty during her lifetime. She guided them with her wisdom but also infectious enthusiasm for berry crops and supporting the industry through applied research and extension. She was also a beloved wife and mother of two phenomenal girls who will also feel the immense void left behind by her departure.
While the berry community grieves Dr. Strik's untimely passing, it is also useful to look at her legacy and draw inspiration from the positive energy and accomplishments she brought about throughout her lifetime. Not only was her research abundant and transformative, but she also traveled the world and seamlessly blended work with pleasure. Among all of her accomplishments, she always made time for people including several members of the VacCAP team and family. She was in essence the "real-deal", berry goddess extraordinaire, and the type of hero many of us will continue to admire within the berry community.