Welcome to VacCAP for All. Here you can find a collection of VacCAP research summarized into accessible, everyday language.
---
Bilberry (Vaccinium myrtillus L.) is prized for its taste and health properties and has provided essential nutrition for Northern European indigenous populations. It contains high concentrations of phytonutrients, with perhaps the most important being the purple-colored anthocyanins, found in both skin and flesh.
Unlike its cultivated relatives, bilberry remains largely undomesticated, with berry harvesting almost entirely from the wild. As such, it is ideal for genomic analysis, providing comparisons with the domesticated Vaccinium species. Read more
---
To offset the tartness for consumers, higher amounts of sugar need to be added in the cranberry products, such as sweetened-dried-cranberries and juices. The added sugar has deterred consumers from increasing cranberry product consumption despite cranberry health benefits.
Within the cranberry germplasm collection at Rutgers University, a unique cranberry plant was identified with fruit having a lower percent TA than is normally found in commercial cultivars and may offer cranberry products with less added sugar. Crosses using this plant identified a naturally occurring genetic trait that produced fruit with a lower malic acid, which impacts TA.
Utilizing these populations—segregating for the low malic acid traits—it was possible to generate effective genetic markers for use in breeding of cranberry cultivars with TA. Read more
---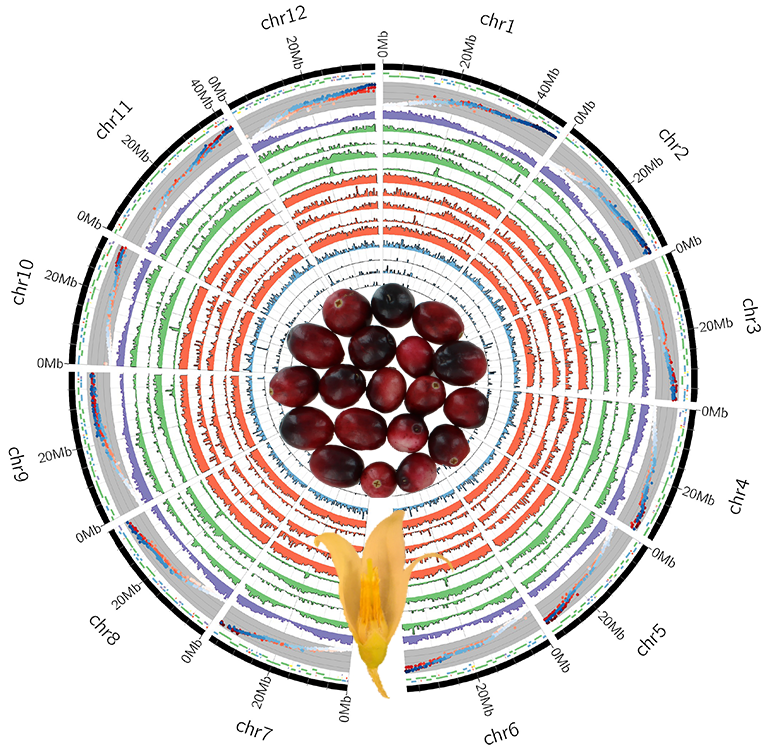 Over the last decade, Dr. Juan Zalapa has been working on a puzzle—a 500-million-piece one. Zalapa and others in his team—such as Luis Diaz-Garcia—is working to assemble the 'Stevens' cranberry genome in order to identify which genes control what traits in cranberry cultivars. 
"Cranberries have 12 chromosomes. So, one of the things that we need to do for sequencing is to decipher the genetic code (bases) of those 12 chromosomes," Zalapa said "When you do any kind of genetic sequencing, you can't get a single piece sequence for a whole chromosome. There are 500 million bases of chromosome sequence—divided into 12 chromosomes roughly, it could be 50 million bases per chromosome. And assembling this is like putting together a puzzle." Read more