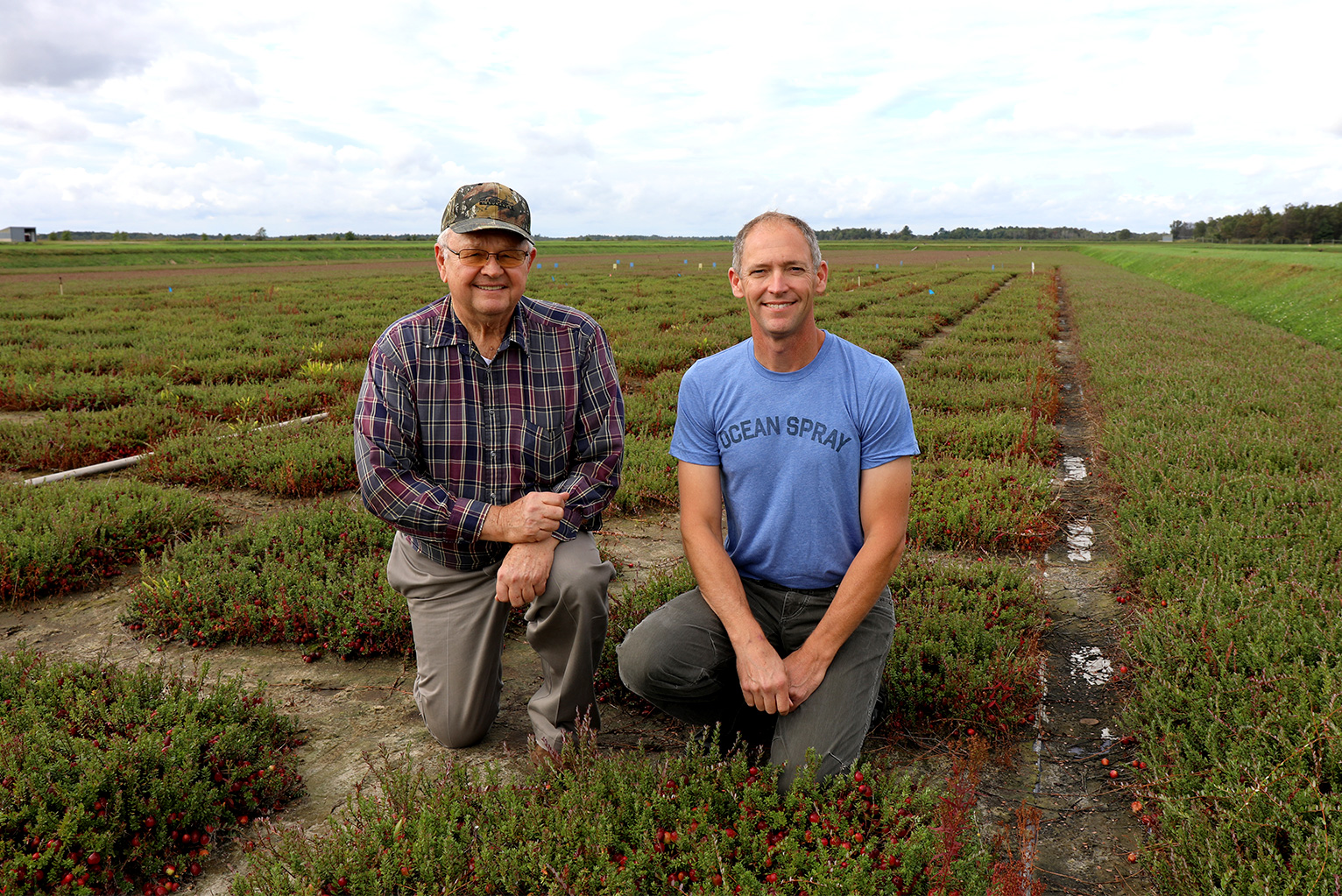 In our Breeder Spotlight Series, we interview blueberry and cranberry breeders to learn more about their roles, challenges in their breeding programs, and have them highlight some of their favorite new cultivars. In this spotlight, we spoke to Ed Grygleski, President of Valley Corporation. 
Please describe your role in the cranberry industry.
Valley Corporation is a fourth generation cranberry farm in Tomah, WI. Our farm started commercially growing cranberries in the 1880s and was originally owned by one of the LaCrosse Footwear founders. We farm 305 acres of cranberries and
are family owned with Ed A. and Ann Grygleski and Mary and Bill Klouda families. Recently the fourth generation of Nathan and Megan Grygleski have started a farming life here as well.
In 1974, Ed J. Grygleski started breeding native varieties in search of a better fresh fruit berry. Since that time we have evaluated thousands of seedlings and we have expanded over 20 proprietary varieties through many generations of cross
breeding. It takes 12‐15 years to grow, evaluate, and expand a variety into a commercial size field.
Cultivar Highlight - Please tell us about some top cultivars you're excited about and why you chose them.
Some of our varieties we have recently expanded are:
Crimson King – Early Season, large fruit and very high yields
Midnights – Early, high yielding, great re‐bud
Pilgrim King – Midseason, largest fruit, very firm, high yields
Badgers – Midseason, low canopy, very high yields, oblong shape
BG – Midseason, high yield
SuperStar – Midseason, high yield
Granite Red – Midseason, fresh fruit variety with extreme firmness
Goldski Crosses – Unique recessive white fruit with a beautiful golden color
We have a family tree map of these varieties and pictures of our farm at our website www.cranberryvine.com
What are some challenges in the breeding program? 
Being a commercial grower while breeding new varieties does present different challenges and benefits. All of our new hybrids are planted in fully renovated beds. Maintaining vine purity in the plots is always a challenge while the bed establishes. We have learned a few techniques to maintaining the plots throughout the years including metal walkways to keep vines from crossing over. Disease pressure after roundup sprays can be intense and destroy growing berries if we aren't very careful on the timing and rate. Fertilizer application timing and rates are hard to optimize in a checker board bed of new varieties. Making selections to expand always has risks but the longer we can evaluate new cultivars the more certain we become of the best selections. Being a grower allows us to
evaluate the varieties under commercial growing conditions. Also, Wisconsin has a much lower incidence of virus and phytoplasma as opposed to some other growing regions. The risk of spreading disease is much lower from vines grown away from these problems.
Although not any one variety is perfect, it is our viewpoint that farm diversity of high yielding varieties is important to reduce risks of yield fluctuation, disease pressure, and management styles. Yield is always the top consideration as we evaluate new varieties, but there are other important traits that we look for. Some of those include rebudding of fruiting uprights, firmness, disease resistance, and uniformity of color. Uniformity of vine canopy has recently become one of our more important observations. Some varieties can start out good, but as the beds age, the canopy can open up and become irregular which leads to yield decline.
Where do you see the future of Vaccinium breeding going in the next 20 years?
As we continue to breed new varieties, the focus will continue to shift to fruit traits as the yields become maximized. As we watch our trays of vines grow from seed in the spring, we are always excited to see what the next generation of crosses bring.