I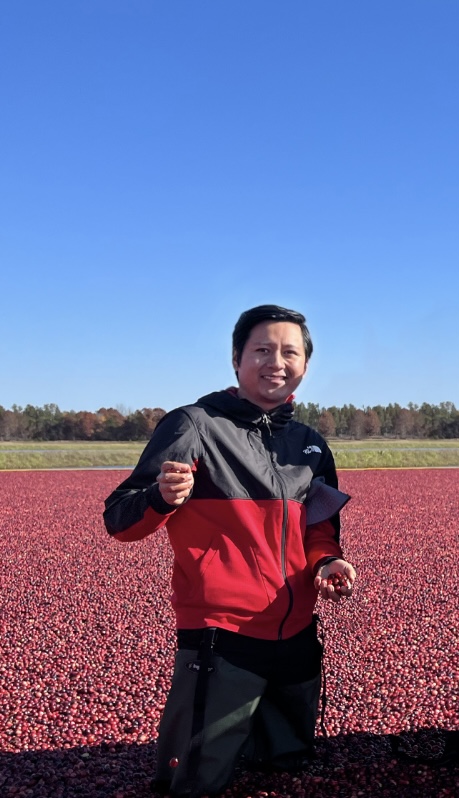 n our Student Spotlight Series, we want to introduce you to the students who help make VacCAP possible through their passion and hard work. In this segment, get to know Hector Lopez-Moreno, a PhD student at UW-Madison with advisor Dr. Juan Zalapa. 
What is the project you're working on for VacCAP about?
My project is focused on the study of genetics, genomics and phenomics of cranberry fruit quality. In my research, I analyze a wide variety of fruit quality traits related to external appearance, internal structure, and texture in order to generate relevant information and tools that can benefit research and the industry of this crop. I hope that the results of my research will contribute to the creation of future cranberry varieties with improved fruit quality by identifying genomic regions of interest and developing new phenotyping methodologies.
What is something you like or find most interesting about your work?
Because many areas of study in cranberry have been little explored, our research is pioneering in the field. This makes the generation of knowledge in this crop challenging and exciting at the same time. In addition, one of the things I like the most about my research is that we work closely with stakeholders to generate highly applicable knowledge. 
For example, a large part of my work is contributing to the development of the genetic improvement scheme to create varieties with better performance in the production of products with high added value in the industry such as sweetened and dried cranberries.
What do you hope to do in the future after your work here?
In the future I plan to continue my career as a researcher/breeder to give practical solutions to the different problems facing agricultural production. In particular, I would like to develop my own fruit quality research program by combining multi-omics tools, bioinformatics and AI.
Anything else you would like to add?
I would like to thank my advisor Dr. Juan Zalapa for his guidance and mentoring during my doctoral studies and the VacCap team for their support and the opportunity to collaborate with a high-level team.