By Dr. Lisa Wasko DeVetter, Washington State University 
Dr. Chad Finn was a well-regarded research geneticist and berry breeder tha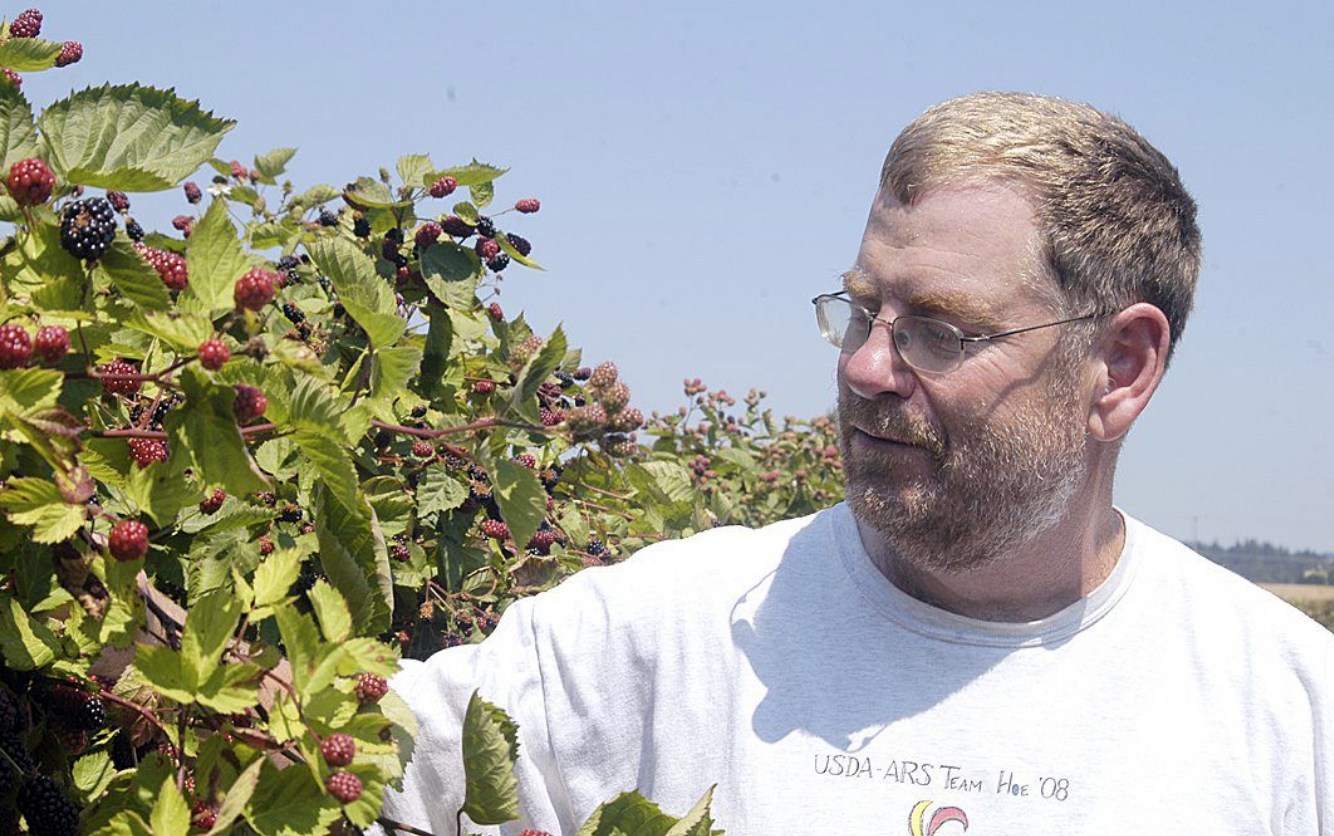 t worked for the United States Department of Agriculture-Agricultural Research Services (USDA-ARS) in Corvallis, Oregon, USA. He also had an infectious laugh you could hear across a room and a hug that could break you (literally—he has accidently broken ribs!), but overwhelmingly gave you a sense of enduring friendship. Chad's passion for plants, plant breeding, and small fruit improvement was also well-known and respected in the berry production and plant breeding community.
Sadly, the berry community lost this productive and influential member of their community on December 17, 2019, due to an accident sustained while Chad was on vacation in Hawaii. Hundreds of us also lost a dear friend. Chad was only 57 years old at the time of his passing, but he had an impactful career worthy of recognizing and celebrating. 
Chad's expertise was berry breeding, germplasm, and cultivar performance, but he also commanded expertise in berry production and processing. As a USDA breeder, he spent 26 years of his professional career developing not just blueberry, but also raspberry, blackberry, and strawberry cultivars. He was prolific in his work and released or co-released 51 berry cultivars that are grown all over the world. This figure includes 21 blackberry, 11 red raspberry, 12 strawberry, and 7 blueberry releases. He was also an instrumental partner in the only government-university cooperative breeding program with Dr. Bernadine Strik at Oregon State University, which has led to many breeding and horticultural successes. His work and collaborative spirit is a model to many. 
Beyond breeding, Chad made many important literary contributions by authoring or co-authoring 475 publications, including 217 peer-reviewed papers, 16 patents/patent applications, 34 book chapters, 38 extension publications, 85 proceeding articles, and over 137 abstracts.  He was well known around the world and exchanged germplasm with more than 25 breeding programs internationally. Furthermore, he gave over 273 invited presentations (17 as keynote speaker). Chad was always busy, but his high spirits and energy seemed unbounded.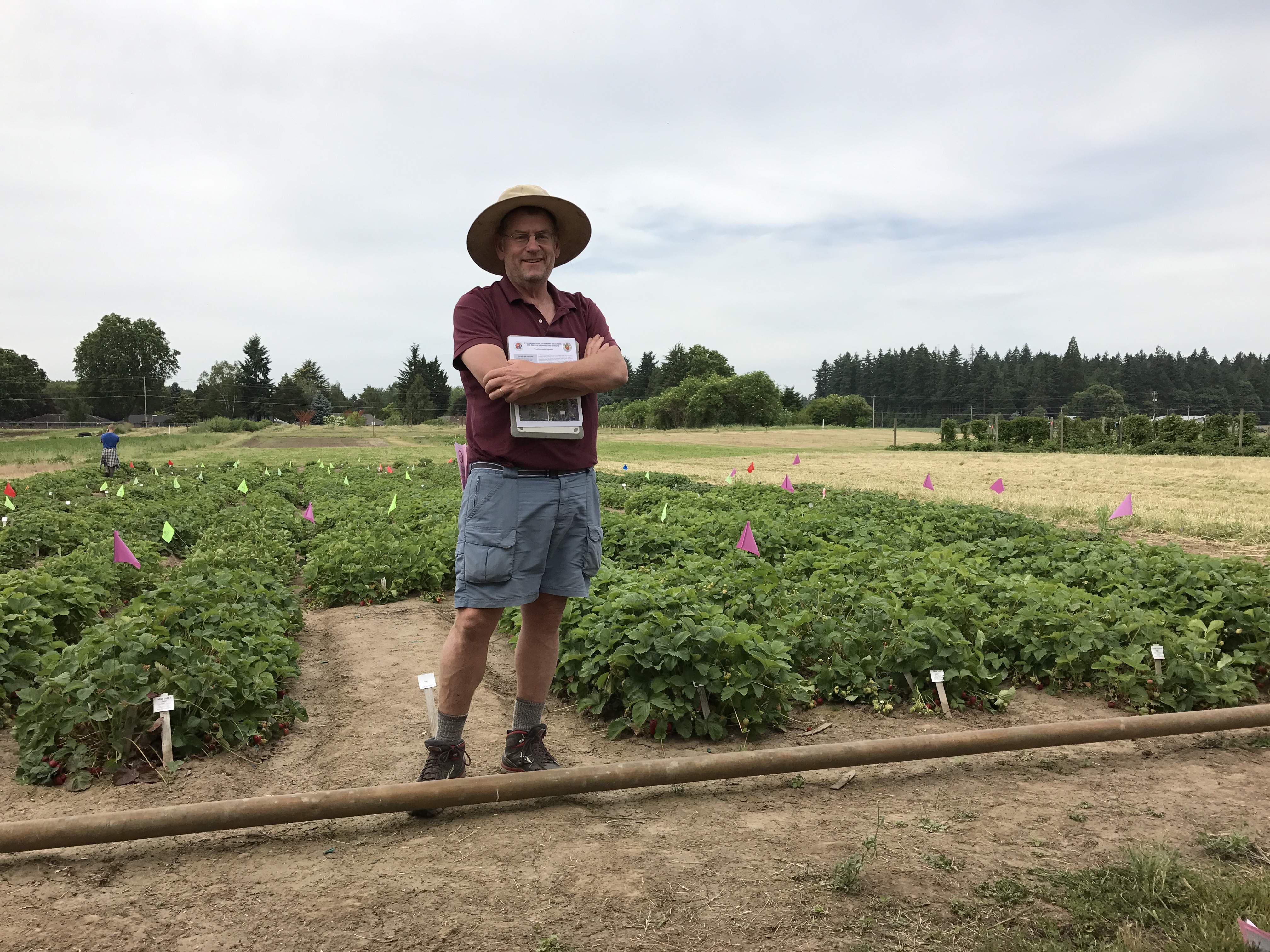 The innovativeness and impact of Chad's research program have been recognized by the scientific community and small fruit industry and is demonstrated by his receipt of the following awards: USDA-ARS Technology Transfer award, American Pomological Society's Wilder Medal for outstanding service to horticulture in the broad area of pomology, American Society for Horticultural Science's Outstanding Fruit Cultivar Award for 'Black Diamond' blackberry, and the Federal Laboratory Consortium's Far West Regional Award for "Development of New Berry Varieties" in the category of Outstanding Commercialization Success. In addition, Chad was elected a Fellow of the American Society for Horticultural Science and honored as a Distinguished Alumnus by Purdue University's Department of Horticulture. He has also received numerous international and domestic requests for information, invitations to discuss his research program, successful grant proposals, and requests to assist in the development and evaluation of plant material from other breeding programs around the world. He was an extraordinary man and scientist.
Beyond the man and scientist, Chad was a dear friend, husband, and father. He is survived by his wife, Barb, two sons Elliott and Ian, sister Beth, and brothers Bart, Dan and Mark. He also leaves behind hundreds of friends that will cherish their memories of Chad. The friendships he forged span the world and hundreds considered Chad a dear friend and acquaintance, which was exemplified at his celebration of life where there was standing room only.

For the VacCAP community, Chad Finn was an instrumental figure that played a key role in the visioning that led to this successful proposal. Now that Chad is gone, his role has changed from one of collaboration to inspiration, as we are all inspired by Chad to do our very best on this project proposal and make a positive, lasting impact to Vaccinium crop improvement.