In our Breeder Spotlight Series, we interview blueberry and cranberry breeders to learn more about their roles, challenges in their breeding programs, and have them highlight some of their favorite new cultivars. In this spotlight, we spoke to Jim Olmstead, Global Blueberry Breeding Director, and Jessica Gilbert, Molecular Blueberry Breeder, from Driscoll's, Inc.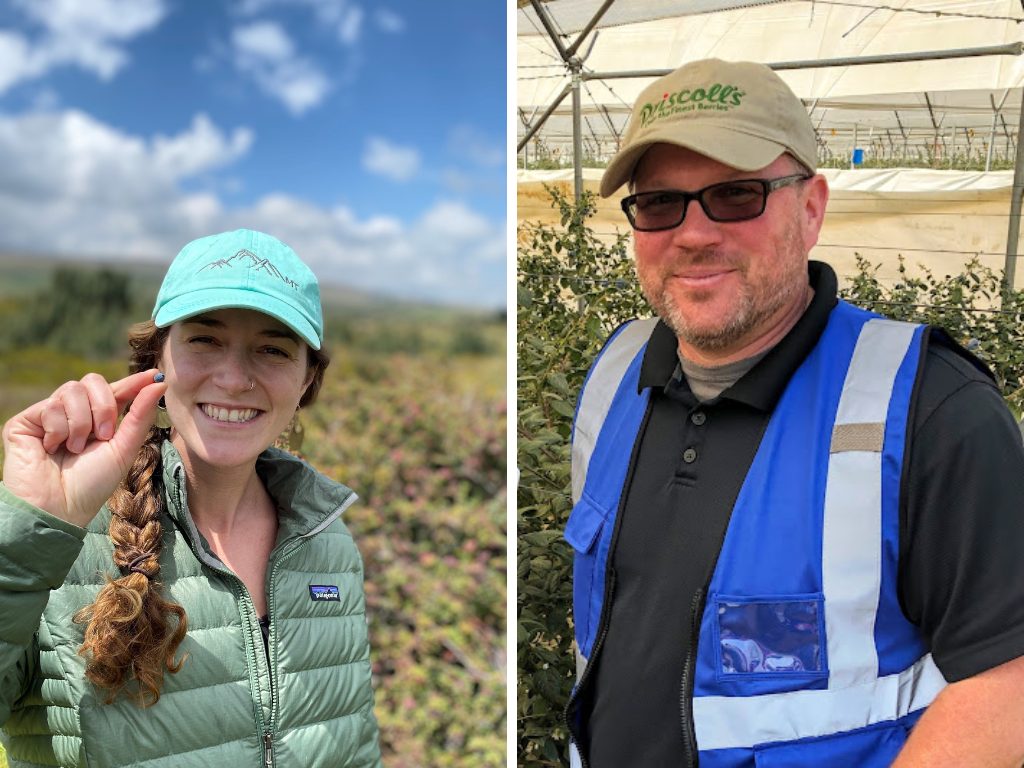 Please describe your role in the cranberry industry.
Jim: We are part of the Blueberry Breeding team at Driscoll's, Inc. Driscoll's has been in the berry business for over one hundred years, but only began breeding blueberries in the 1990s. I have been the Global Blueberry Breeding Director for Driscoll's for almost six years now.  My role is to provide vision and leadership for the multiple blueberry breeding programs and trial locations for the R&D Business Unit. I direct a team of scientists with the sole focus on breeding and genetics. 
Jessica: In 2015, Driscoll's leadership made significant additional investment in developing molecular breeding techniques.  Along with building state of the art molecular and chemistry labs, I was hired along with several new scientists that year. My role as the Molecular Blueberry Breeder works in close collaboration with our global blueberry breeding programs and molecular team to establish genomic resources, design trials to identify molecular markers for important traits, and implement strategies for genomic prediction.
Together, we are part of a team of 17 breeders and scientists in the US, Mexico, Peru, Morocco, Portugal, and the UK. We develop new blueberry cultivars that advance the mission at Driscoll's worldwide – to continually delight Berry Consumers through alignment with our Customers and our Berry Growers.  
Cultivar Highlight - Please tell us about some top cultivars you're excited about and why you chose them.
There are three recent commercial releases from Driscoll's that we'd like to highlight.  They epitomize the opportunity we both saw when moving to Driscoll's. They will grow in different areas but have the common thread of being highly differentiated in flavor, fruit size, and texture compared to the standard cultivars grown in those areas. Lucy is a high chill mid-to-late season cultivar that we are planting widely in the Pacific Northwest. We look to use its beautiful appearance and outstanding flavor to follow Draper in timing. Rosita and Raymi are two no chill cultivars that will be grown in Mexico and Peru, respectively. Both have outstanding flavor, size, and firmness.   
What are some challenges in the breeding program? 
We think the biggest challenge for the Driscoll's breeding program is just how good the competition is. There are a lot of very strong breeding programs out there, releasing highly competitive cultivars into the marketplace. For a company that has built a business model around providing the best genetics to growers, this keeps us on our toes!  
Where do you see the future of Vaccinium breeding going in the next 20 years?
We expect to see a continued move toward commoditization of blueberry production. If you look at the North American marketing curve for 2021, the windows where there used to be low points of production with higher prices have really begun to level out. There are no "easy wins" anymore – every new cultivar will have to be competitive from a yield and fruit quality standpoint. The marketplace is looking for flavor and fruit quality, so there is no margin for error there, but growers will need competitive yield and harvest efficiency to make future plantings viable. Differentiation will be the key to making new cultivars stand out, and we are excited to follow in the footsteps of our specialty Tropical and Rosé strawberries and raspberries. Expect to see some exciting new product differentiation from blueberries in grocery stores in the next several years!
In what way have you used resources from VacCAP to facilitate your work?
We made the decision early on to focus on the community-developed genotyping platform for our high throughput genotyping needs. From the start, we've participated and contributed to develop genotyping capacity. We have submitted hundreds of selections in our breeding programs for genotyping via the VacCAP-developed high density genotyping probe set. We expect to be able to use the genotypic data for continued marker discovery and parent prediction modeling.